Tall Color Bowl Cirage à l'artisanat en verre Shisha Hookah Borosilicate Recycler Glass Water Pipes Inventaire pour tabac Smoking Hookah
productivité:

200000 Sets/Week

Lieu d'origine:

Chine

Capacité d'approvisionnement:

200000 Sets/Week
Informations de base
Modèle: Tobacco Glass Smoking Water Pipe
Description du produit
Modèle NO .: Verre à tabac Fumage Matériau de la tuyauterie: Forme du verre: Rond Style: Creative Nom du produit: Paquet de tabac à l'eau à fumer: Marque Enjoylife Diamètre du paquet: 55 mm OEM / ODM: plus de 500 Service d'OEM gratuit Livraison via: FedEx / TNT / DHL / UPS / EMS Transport Package: Paquet Cadeau ou Paquet OEM Origine: Chine Type: Pipes Smoking Utilisation: Utilisation quotidienne Convient pour: Mâle Couleur: Blanc Fournisseur: Hbking Hauteur: 18inch MOQ: 10PCS Délai de livraison: 3-5 jours ouvrables Marque déposée: HBKing Spécifications du fabricant: FDA, MSDS Code SH: 3301199000 Chine Fabricant K-14 16inch 60diameter 7thickness Double Matrix Domed Showerhead Percolator Glass Smoking Water Pipe
Magasin en ligne: Hbkingbong420
Http://www.dhgate.com/store/Hbkingbong4201. Clear Glass Hookah shisha / nargile 2. Meilleures ventes avec de la qualité 3. Grande usine de chiffons en verre 4. Multi-design 5. OEM et ODM sont OK. 6. Chaque produit est emballé indépendamment avec un sac Bubble, puis mettez un carton de taille moyenne.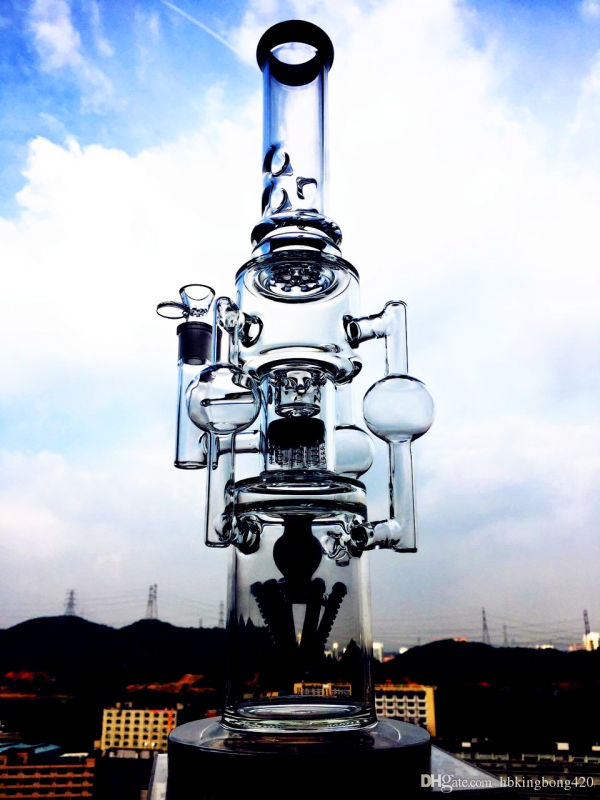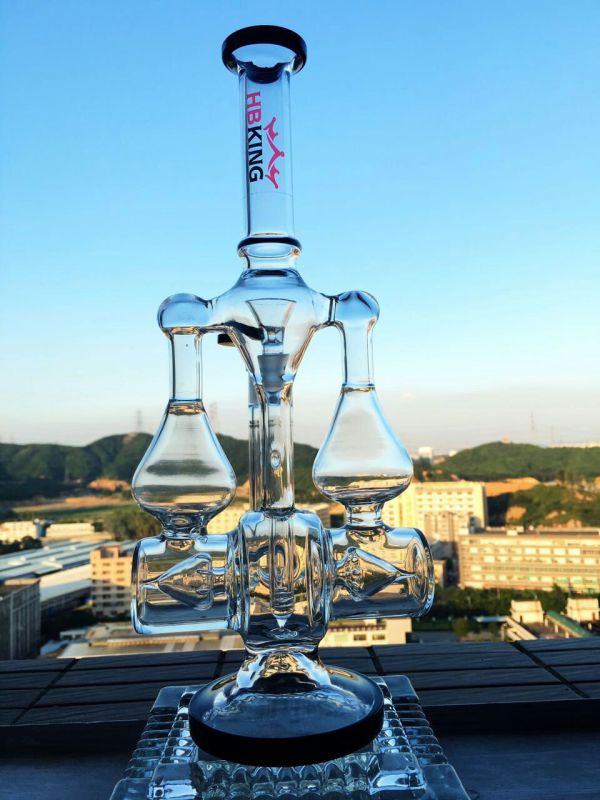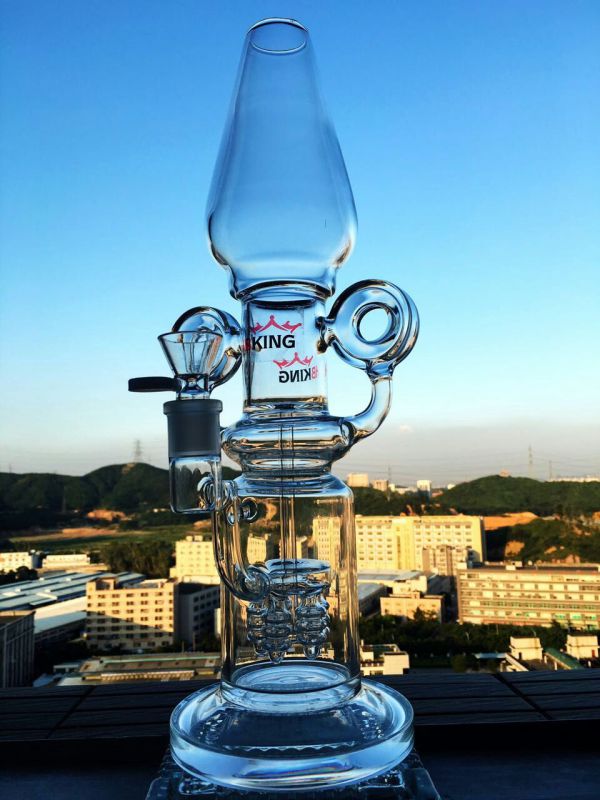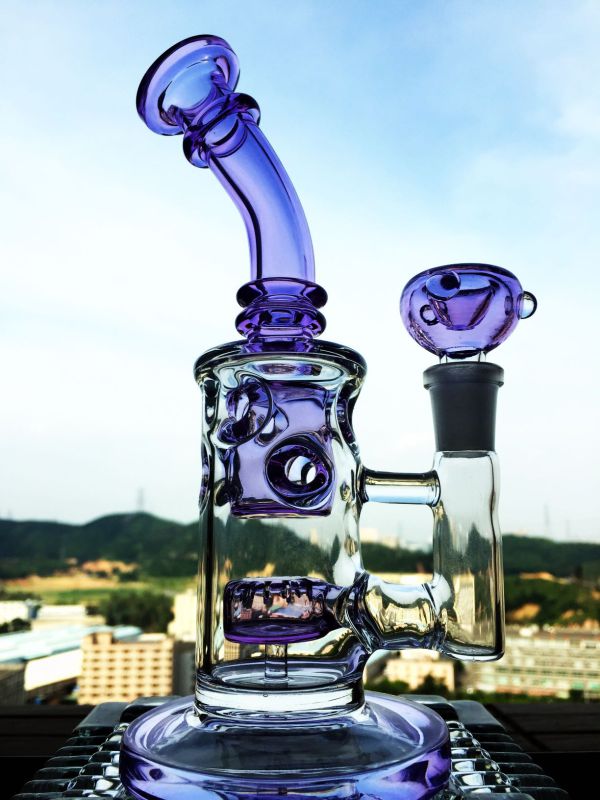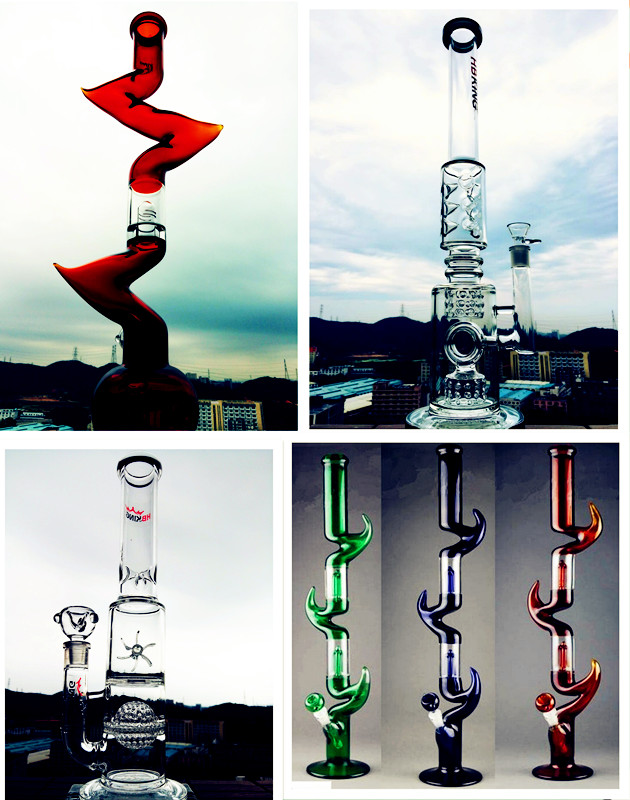 Come and see our large selection of 

Handblown Glass

, 

Bubblers

, 

Glass Animal Pipes

 and

Sherlocks

! Peruse our pages for 

Concentrate Oil

, 

Glass Steamrollers

, 

Bats, Onies & Blunts

. Sort through our 

Slides and Aschatchers

 and 

Accessories

.
HB-KING Glass is one of the biggest manufacturer that sells high quality water pipes to smokers. Our selection for sale include various styles of different smoking pipes, such as: scientific glass, oil rigs, dab rigs, glass on glass waterpipes, acrylic smoking pipes, bubblers, and glass water pipes. We strive to bring smokers across America only the highest in quality water pipes to fit anyone's budget. Whether you're new to smoking or a hardcore smoker, HB-KING Glass has the perfect pipe for you.
Welcome to the Water Pipes section! In here you'll find all sorts of wonderful glass that is intended to be used with water inside. From hammer style hand bubblers to giant tubes with multiple diffusers, we have a wide range of styles and sizes to suit any smoker. Use the options above to refine your search parameters and find the perfect glass water pipe for you!
Comment commander: 1. Dites-nous le nom du modèle, la quantité, la couleur et d'autres exigences particulières, le cas échéant.
2. La facture proforma sera faite et envoyée pour votre approbation.
3. La production sera organisée dès réception de votre approbation et paiement ou dépôt.
4. Les marchandises seront livrées comme indiqué sur la facture proforma.
Comment payer:
1) Paypal / Western Union / T / T tout acceptable;
2) 30% de dépôt et 70% avant expédition toutes les marchandises sont acceptables pour une grande commande;
3) Si vous êtes votre troisième commande, une fois que vous recevez votre facture de banque de paiement (numérisation), nous enverrons des marchandises à la fois. N'ayez pas besoin d'attendre 3-5 jours.
Comment envoyer:
1) UPS / DHL / EMS / HKEMS / FedEx / TNT et ainsi de suite express (porte à porte);
2) par voie aérienne; Pls choisit votre méthode d'expédition préférée selon vos exigences de détail;
3) Le coût d'expédition dépend d'un poids différent; Nous choisirons le moyen le moins cher et le plus sûr en fonction de vos quantités détaillées;
4) Normalement, il faudra environ 3 à 7 jours de la Chine au pays de destination. Pls a noté qu'un endroit éloigné nécessitera plus d'environ 1-3 jours.
After-services:
1. Garantie de 3 mois pour l'atomiseur, garantie de 6 mois pour la batterie.
2. Veuillez nous envoyer des photos et des vidéos pour notre confirmation. Ensuite, nous remplacerons les pièces brisées par de nouvelles pièces dans l'ordre suivant
3. Choisissez la compagnie d'expédition la plus rapide et la plus sûre
4. Suivre la commande jusqu'à ce que vous obteniez les marchandises
Bienvenue à nous rendre visite!
| | |
| --- | --- |
| ELA-4 | Oil Can Glass Water Pipe |
| ELHA-6 | Hitman Glass Water Pipe |
| ELHA-7 | Ice Cream Bottle Water Glass Pipe |
| ELA-5 | Boby Bottle Water Glass Pipe |
| ELHA-8 | Oil Can Water Glass Pipe |
| ELA-6 | Spritech Dirty Water Glass Pipe |
| ELA-7 | Barrel Oil Rig Water Glass Pipe |
| ELW-2 | holes Recycler Water Pipe |
| ELZ-32 | flower Recycler Water Pipe |
| ELZ-33 | inverted triangle  Recycler Water Pipe |
| | |
| --- | --- |
| ELZ-34 | Recycler Water Pipe |
| ELZJ-1 | Recycler Shower Perc Water Pipe |
| ELZJ-13 | Recycler Water Pipe |
| ELZM-1 | Spiral Coil Recycler Water Pipe |
| ELZJ-8 | Recycler Perc Water Pipe |
| ELZJ-3 | Recycler Perc Water Pipe |
| ELZJ-14 | Faberge Egg Rig Skull Glass pipe |
| ELZJ-4 | Hollow honeycomb Glass pipe |
| ELZJ-5 | Faberge Egg Rig Skull Glass pipe |
| ELYP-1 | Recycler Inline Perc Water Pipe |
| | |
| --- | --- |
| ELZJ-6 | Recycler Perc Water Pipe |
| ELZM-2 | Recycler Inline Perc Water Pipe |
| ELZJ-7 | Recycler Shower Perc Water Pipe |
| ELZJ-2 | Recycler Perc Glass pipe |
| ELZM-3 | Inline Perc Recycler Glass pipe |
| ELZJ-9 | Shower Perc Recycler Glass pipe |
| ELZJ-10 | Double Recycler Glass pipe |
| ELL-30 | 3*8 ARM tree perc Glass pipe with ice notches built |
| ELZM-4 | 3*4 ARM tree perc Glass pipe with ice notches built |
| ELZM-5 | Spiral Coil Perc Glass pipe |
| | |
| --- | --- |
| ELL-31 | 2*10ARM tree perc Glass pipe with ice notches built |
| ELZM-6 | 2*8 ARM tree perc Glass pipe with ice notches built |
| ELZJ-11 | 4 ARM tree perc Glass pipe |
| ELJZ-1 | Shower Mushroom Perc  Glass pipe |
| ELW-1 | HoneyComb Tree Perc Glass pipe |
| ELRS-1 | HoneyComb Tree Perc Glass pipe |
| ELJZ-2 | Shower tree perc Glass pipe |
| ELJZ-3 | honeycomb perc Glass pipe |
| ELJZ-4 | Shower perc Glass pipe |
| ELZM-7 | Shower Tree perc Glass pipe |
ELTY-1

Frit Percolator Glass pipe

ELTY-2

Dome Perc Glass pipe

ELRS-2

White Jade Glass Water Pipe

ELRS-3

Honeycomb and Tornoda perc pipe

ELYP-2

Painted Glass pipe

ELRS-4

Flower Perc Glass Pipe

ELYP-3

Painted Glass pipe

ELJZ-5

shower perc Glass pipe

ELZM-8

inline perc Glass pipe

ELZJ-12

Two Parts Inline Perc Glass pipe
 
Groupes de Produits : Fumoir